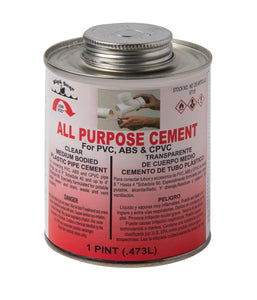 Black Swan All Purpose Cement 4 oz.
---
---
Black Swan All Purpose Cement is a clear, medium bodied, medium to fast set, high strength solvent cement used to join PVC, CPVC and ABS pipe and fittings. For all classes and schedules of pipe and fittings through 6" diameter. All Purpose Cement is most effective when used in temperature ranges from 40° F to 100° F.

SHELF LIFE
All Purpose Cement has a shelf life of two years from date on bottom of can.

STANDARDS AND APPROVALS
All Purpose Cement meets ASTM D-2564 and ASTM F-493. A low VOC formulation which meets the California South Coast Air Quality Management District (SCAQMD) Rule 1168/316A or BAAQMD Method 40. Maximum VOC is 510 g/L. In using this Low VOC product, the user can claim credit for LEED Green Building Rating System

PACKAGING
All Purpose Cement is available in 1/4 pint, 1/2 pint, pint, quart, gallon and 55 gallon containers. Larger sizes available upon request. On sizes smaller than one gallon there is a dauber in each container to facilitate application of cement.
---
We Also Recommend
---