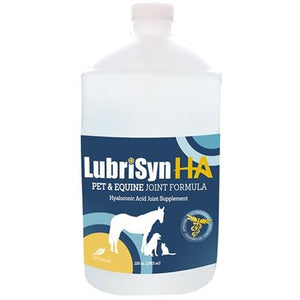 LubriSynHA
---
---
The only joint supplement you'll ever need!
LubriSynHA Pet & Equine Formulas
Taking the best care of your horses, your pets, and yourself is your top priority. We have the natural products that are proven to work, and won't break the bank. Developed by elite racetrack veterinarian, Dr. Steven Allday, our products are safe, easy to administer, and designed to keep top equine athletes, beloved pets, and yourself in peak performance condition. 
For Your Horse…
LubriSynHA's liquid, all-natural, high molecular weight hyaluronic acid supplements can help support the synovial fluid within the joint. LubriSynHA Pet & Equine Formula protects horse's joints for as little as $1.16 per day, or about $35 a month. You can help prevent expensive emergencies to the vet tomorrow by treating your equine champion today.
---
We Also Recommend
---